Barleyfields Land
Our vision for the Barleyfields land is to provide a range of homes for local people in a highly sustainable location, within an open and attractive environment that respects the character and setting of this part of the village. The land that we are presently seeking to be allocated for housing is situated to the north of Church Lane (with access from Barleyfields), but later phases of development could extend towards the railway line if a further access from Station Road was provided. A larger development site could also provide a 'new' station for Fulbourn allowing residents to travel directly into Cambridge by train, as well as other significant 'planning gains'.
This site was assessed by the District Council in their 'Strategic Housing Land Availability Assessment' (SHLAA), which provides part of the evidence base for the new Local Plan, and was considered to be the only site with 'development potential' out of all the sites put forward in Fulbourn. The link below provides access to the relevant SHLAA map for Fulbourn:
However, the Council has 'downgraded' Fulbourn's status in the settlement hierarchy to a 'Minor Service Centre' and, as a result, there is a notional cap on housing development in excess of around 30 dwellings. At this stage therefore, we are promoting approximately 3 hectares (7 acres) of land north of Barleyfields (see map below) for a low density residential development of around 50 homes together with public open space and a community orchard/allotments.
The Barleyfields land lies within the Green Belt but it is surrounded by existing housing areas on three sides, and by the railway line and an industrial estate to the north. Consequently, the land performs very few 'green belt functions' because it is not needed to prevent neighbouring settlements merging into one another, since it is already virtually surrounded by existing development.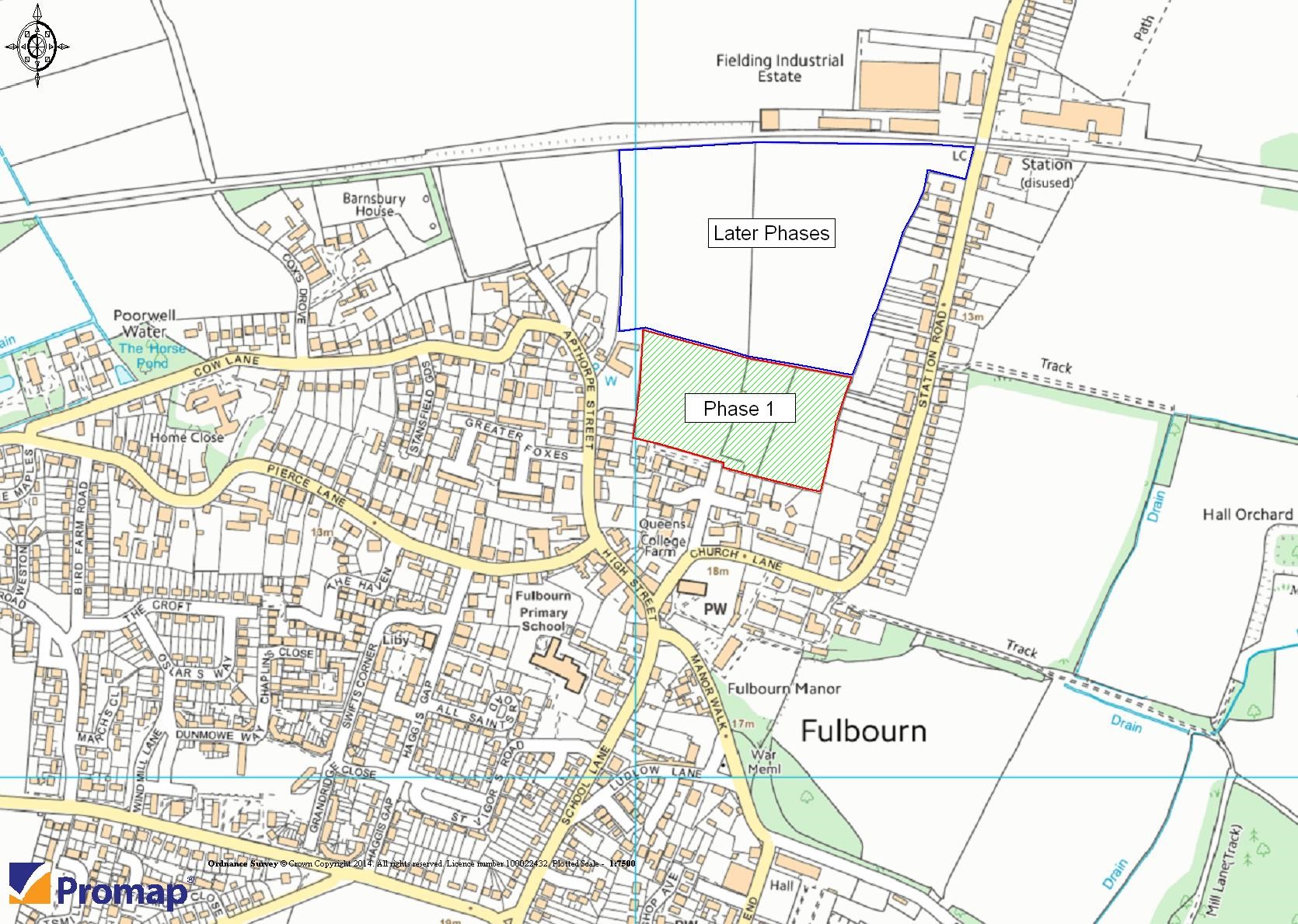 We firmly believe that this is the only site close to the centre of Fulbourn where new development could take place in a truly sustainable manner and without significant detrimental impact on the existing community. We asked local agents Cheffins to submit detailed representations to the District Council, as part of the consultation on the new Local Plan, and these can be found under the "Local Plan Representations" tab.
Cheffins' representations provide a detailed objection to the Council's emerging Local Plan on the grounds that the Plan is 'unsound' because:
It is not based on a strategy that seeks to meet all the District's housing requirements;
It is not the most appropriate strategy when considered against the reasonable alternatives;
It will not be effective, because the Council have demonstrated that they do not have a clear understanding of all the housing needs in their area
It is not consistent with national policy, which requires that the Plan should address the need for all types of housing, including the needs of different groups within the community.
We believe that the omission of any reference in the Local Plan to the provision of self-build housing sites is an important issue that must be addressed to make the Plan 'sound', and to meet the requirements of National Planning Policy. Such sites are now being 'championed' by the government who recently announced a "Right to Build" policy for those people wanting to build their own homes.
In order to make the Local Plan sound we have recommended that detailed references should be made to the inclusion of specific sites for self-build housing within the spatial strategy, especially in the more sustainable villages such as Fulbourn. The Barleyfields land is situated in a highly sustainable location, within easy walking distance of the High Street and its shops, as well as the primary school and other key services and facilities.
A village park and recreation facilities
Despite its many attractions, Fulbourn has always been under-provided with open space for recreational needs – not only for organised sports but also just for somewhere to walk relax and play.
The Barleyfields proposal includes a new village park, which could house facilities for tennis, bowls and children's play, as well as landscaped and wooded areas for walking or sitting. Later phases of development could include a sports pavilion with squash courts, social/club facilities and meeting rooms.
All these facilities would be within easy reach of the existing village, to act as a focal point for the whole community.
A Wide Choice for Local People
The draft proposals for a first phase of housing (see tab - Draft Proposals Map), could accommodate around 50 new homes in a low density, landscape dominated setting. Sheltered housing for the elderly would be provided as well as purpose built bungalows and flats for the more actively retired, who want to move to more manageable homes whilst retaining their independence without having to leave the village. It is anticipated that a substantial proportion of the plots would be made available for those local people wanting to build their own homes.
There would also be provision for small starter homes, especially suitable for the local first time buyers – mostly the sons and daughters of existing families in the village who have found themselves priced out of the area due to increasing house prices. Finally, the development would provide the widest possible choices of family housing for local families needing more space in a modern, sustainable home in safe and pleasant environment.
More Information:
"In all the years I have been reporting on people who want to build their own homes I've never seen so much interest, excitement and action as there is right now. A survey conducted earlier this year suggested that there are now six million people in Britain who would like to commission their own house - And all around the country more and more councils and landowners are now taking notice of this demand, and are recognising the passion and commitment there is out there among the public to have much more input into the design, specification and construction of their new homes."
Kevin McCloud (Grand Designs) Self Build Industry Champion – August 2013.
Contact:

Paul Sutton | Head of Planning
paul.sutton@cheffins.co.uk
Cheffins Planning & Development
Clifton House,
1 & 2 Clifton Road,
Cambridge,
CB1 7EA.
Tel: 01223 271985
Fax: 01223 271960